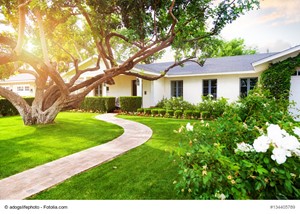 Architecturally speaking, many home buyers have very definite ideas about their preferred house style.
Whether it stems from a sense of practicality or positive childhood memories, few house hunters are "on the fence" when it comes to the number of stories their ideal house should have.
Perhaps you're one of those people who grew up in a two-story house and wouldn't feel right sleeping down the hall from the kitchen and family room. Some people just prefer their sleeping quarters to be on the second floor!
Although it's a matter of personal preference, there are certain practical aspects to buying a ranch-style or traditional rambler house.
Less stair climbing: While this is an advantage that seniors typically value the most, stairs can be a burden anyone -- especially when you're lugging suitcases, boxes of books, or that heavy new futon you wanted to put in the guest room.
You can probably also recall countless evenings when exhaustion set it, and the last thing you felt like doing was climbing a long, winding staircase to get to your bedroom. (Okay, well maybe it's not "winding," but you get the idea!)
Then, of course, there are those times when you haven't been to the gym in a few months -- make that years -- and your home treadmill has turned into more of a clothes rack than an exercise machine! Although going up and down stairs a few times a day can help counteract the effects of a sedentary lifestyle, sometimes stairs can feel like they're more trouble than they're worth! That would definitely be the case if you have any physical conditions or health problems which make climbing stairs painful or medically unsafe. (Your physician can provide helpful advice on the latter.)
Home maintenance: If you hate getting up on tall ladders to paint your house or clean your rain gutters, owning a one-story home is a solution. Since home maintenance and repairs can often end up costing a bundle, it may make sense to consider doing your own exterior house painting. Although it's time consuming, messy, and sometimes a bit strenuous, painting your own house can potentially save you thousands of dollars in labor costs. Naturally, you'll still need to buy your own paint, brushes, rollers, and other supplies, but the amount of money you can save on labor is substantial.
Personal safety: If there's a fire or other emergency and you need to quickly evacuate your home in the middle of the night, a first-floor window can be safer and less scary than having to exit your house though a second-story window. While this type of dire situation is unlikely and will hopefully never happen to you, it's one of many factors to consider when comparing and contrasting ranch-style homes with other architectural styles.
If you do opt for a two-story (or three-story) architectural style, such as a colonial, craftsman, Tudor, Victorian, or farm house, it's especially important to have a fire escape ladder on hand, as well as a working knowledge of its proper use.